UPDATE on "Dark Clouds Over Elberton"
Our new documentary continues to fascinate viewers as we reveal the great mysteries of the Georgia Guidestones, which are sometimes referred to as "America's Stonehenge." The strange monument was erected in 1980 by an anonymous stranger who wished to provide guidance for mankind. What he set up, however, was a very new age, environmental message intended to inspire population control at a global level.
Right now, we are seeing the environmental agenda advance as the Pope prepares to come to America to speak about his encyclical on climate change. Breitbart.com reported that the Pope appointed a "Population Control Extremist" to a Vatican post. Incredibly, the views held by this appointee are virtually identical with the message of the Georgia Guidestones. Be sure to scroll down for the latest Noise of Thunder Radio podcast where we discuss this new story.
Also, continue reading below for the reviews of the new documentary:
REVIEWS:
"I watched Dark Clouds Over Elberton! Absolutely held me spell bound and it was totally fascinating!! Two hours went by too fast. You found the real R.C. Christian. Wow!! And doesn't his world view fit right in with what our Gov. and the Pope is up to. The NWO is on fast track. We're living in scary but exciting times! Jesus is coming soon." – Lorraine T.
"Your movie was excellent!" -- Michael H.
"I just finished your DARK CLOUDS documentary and was blown away. This may be your best work yet … It was over the top, really, and had me wanting more." Tom H.
"We just finished watching your new film. It was excellent! Unbelievable information." -- Renee S.
"Amazing job on the Georgia Guidestones video, I've watched it twice already. I didn't know what to expect when it came to revealing the identity of R.C., assuming that it would end up being speculation … but you truly uncovered something that no one else has been able to for all these years … the identity of R.C. Christian." -- Jeff L.
"I watched the 'Dark Clouds' video last night and I want you to know that it was absolutely fabulous. I thoroughly enjoyed it, and it was very informative … There seems to be no doubt as the validity of your research and conclusions … the DVD was awesome." -- Mac and Janice
"Thank you for the informative and interesting DVD regarding the Georgia Guidestones. As usual, an excellent Chris Pinto & group production …" – Barbara S.
"10 out of 10 stars … another well done (and much needed) documentary."
– Perry C.
"Just finished the Guidestones DVD – WOW!" – Lorraine M.
"May I give you another ten fingers and ten toes up for another outstanding documentary in 'Dark Clouds Over Elberton.' Once again, that was superb investigative reporting and research …" -- Syd M.
"Thank you for the welcome arrival of DARK CLOUD OVER ELBERTON … We are astonished at the amazing research, professionalism and just plain doggedness in your quest to give us answers and light regarding these mysterious stones and their authors." -- Wes & Jenny I.
DARK CLOUDS OVER ELBERTON:
THE TRUE STORY OF THE GEORGIA GUIDESTONES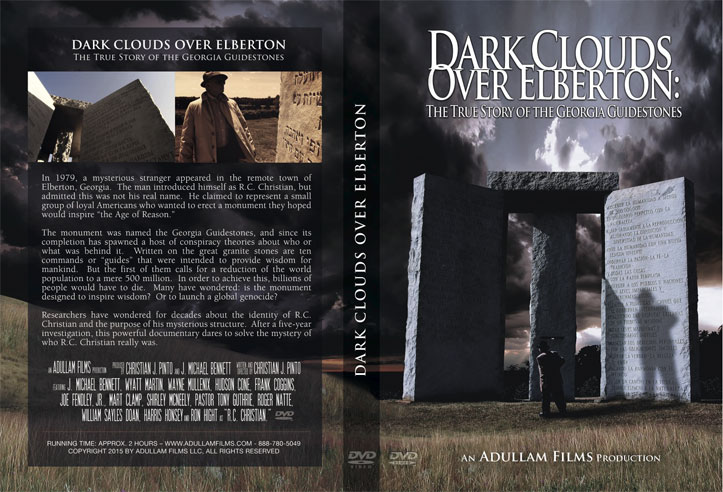 DVD $24.95

_________________________________________________________________________________________
UPDATE on BRIDGE to BABYLON
The editing on "Bridge" continues to move forward as we prepare to finish the third part of our history of the Bible series. Some of the information we have uncovered thus far is powerful, and shows the incredibly doubtful character of the critical text.
Part of our investigation will focus on the Codex Vaticanus, and whether Erasmus was right to reject it more than 300 years ago. From the writings of Samuel P. Tregelles, we have learned that Erasmus believed that the Vatican's Greek Bible had been corrupted a century earlier, and apparently done in secret:
"Erasmus requested … to examine the Codex Vaticanus … Erasmus expressed an opinion, that the Greek MSS. … must have been altered from the Latin subsequently to the council of Florence, in the fifteenth century. This was apparently suggested to have been a secret agreement of that council."
("An Account of the Printed Text of the Greek New Testament," by Samuel P. Tregelles, pp. 22-23, emphasis added)
We appreciate your continued prayers for this upcoming film.
_________________________________________________________________________________________
NEW SHOW on Noise of Thunder Radio
THE POPE, LINCOLN & DONALD TRUMP
Chris discusses a series of stories, including the upcoming papal visit to the U.S. in September. The Pope has already appointed a population control extremist who says that global warming would be a "triumph for science" because it might reduce the world population to less than 1 billion people. Could this be a connection to the Georgia Guidestones? It is also reported that the Pope will speak at a podium that was used by Abraham Lincoln -- but will the media point out that the Vatican actually sided with the Southern Confederacy during the Civil War? Also discussed are the current controversies surrounding Donald Trump. The Archbishop of New York defines Trump's stand on illegal immigration as an older form of white, Protestant, bigotry that he calls "nativism." Could his opinion have something to do with Rome's interest in flooding the United States with millions of Mexicans -- who are mostly Roman Catholic?
For those of you who listen to the show through iTunes, you can download the show through the iTunes App or any other Podcast app.
Open iTunes, search Noise Of Thunder Radio and subscribe for free!
Or, click on this link to be directly connected to the iTunes podcast feed:
http://www.noiseofthunderradio.com/itunes-rss-page/rss.xml
PODCAST REVIEWS ON iTUNES: If you enjoy the Noise of Thunder Radio program, please take a moment to write a review on iTunes.
God bless,
Adullam Films
A Christian Film Ministry
www.adullamfilms.com
www.filmforjesus.com
________________________________________________________________________________________
THE HISTORY OF THE ENGLISH BIBLE
Audio CD - 70 minutes

The story of the Bible is filled with rich dynamic history that covers the span of more than two thousand years. But in the Middle Ages, English speaking scholars began to dominate Biblical translation in their quest for the most accurate representation of the Word of God in the language of the common people. In this new audio CD, documentary filmmaker, Chris Pinto discusses his own research into the history of the English Bible, featuring extensive interviews with Dr. David Brown, one of the foremost authorities on the subject.
This dynamic audio presentation is perfect for those who wish to be edified while driving in their car, or listening to a CD at home. Compatible with all CD players.
Also available in a five pack for those who want to use them as witnessing tools for friends and family. The information on this CD is also very useful for homeschoolers.
_________________________________________________________________________________________
BIBLE HISTORY BUNDLE - $59.95
We are now making available a four pack featuring two of our history of the Bible documentaries bundled with the new audio CD for further discussion on this important topic.
__________________________________________________________________________________
AUDIO CD FIVE PACK - $49.95
Get all five of our educational audio CDs on some of the most important discernment issues for believers today. Included are:
__________________________________________________________________________________
TARES AMONG THE WHEAT 10 PACK - $99.00
We continue to receive calls and e-mails from believers around the world testifying to the powerful impact that "Tares" has had upon those who have seen it, awakening a desire in many to learn more about the Bible controversies in modern times. This ten pack makes the film more available for those who desire to use copies for witnessing purposes to friends and family, or for Bible studies.





Tares Among the Wheat 10 DVDs - $99.00

10 DVDs - $99.00

__________________________________________________________________________________
THE UNTOLD HISTORY OF THE BIBLE 10 PACK - $89.00
This is the shorter version of "A Lamp in the Dark" with a running time of just 1 hour and 40 minutes. It's short enough for a Church presentation or Bible study class, and was engineered for exactly that purpose. Also perfect as a witnessing tool, and so we are pleased to present this special offer.
| | |
| --- | --- |
| | The Untold History of the Bible 10 Pack - $89.00 |
__________________________________________________________________________________
THE CHRIS PINTO COLLECTION - $99.95
Get eight powerful documentaries written and directed by award winning filmmaker, Christian J. Pinto. This collection now includes "Tares Among the Wheat."





The Chris Pinto Collection - 8 DVDs - $99.95
This 8-DVD collection includes the best of director Chris Pinto's documentaries:
- A Lamp in the Dark: The Untold History of the Bible
- Tares Among the Wheat
- Hidden Faith of the Founding Fathers
- Secret Mysteries of America's Beginnings
- Riddles in Stone
- Eye of the Phoenix
- Megiddo 1: The March to Armageddon
- Megiddo 2: The New Age

__________________________________________________________________________________
THE NEW ULTIMATE COMBO PACK - $169.95
Includes the new audio CD: "The History of the English Bible"
A revision of the original ultimate combo, but now with 15 Resources including 8 documentaries, all 5 of our audio CDs and the book, "Washington in the Lap of Rome."
The New Ultimate Combo Pack
15 Resources - $169.95

1. Tares Among the Wheat - DVD
2. A Lamp in the Dark - DVD
3. Washington in the Lap of Rome - Book
4. Hidden Faith of the Founding Fathers - DVD
5. Secret Mysteries: the New Atlantis - DVD
6. Riddles in Stone - DVD
7. Eye of the Phoenix - DVD
8. Megiddo: the March to Armageddon - DVD
9. Megiddo II: the New Age - DVD
10. The Kinsey Syndrome - DVD
11. The Society of Jesus - Audio CD
12. Freemasonry & Christianity - Audio CD
13. Jesuits and the Counter Reformation - Audio CD
14. Codex Sinaiticus - 2 disc Audio CD
15. The History of the English Bible - Audio CD

To receive our newsletter and updates, please enter email address below: