Book $19.95
__________________
NEW ITEM!
"Who Killed Abraham Lincoln?"
Book by Paul Serup - 416 pages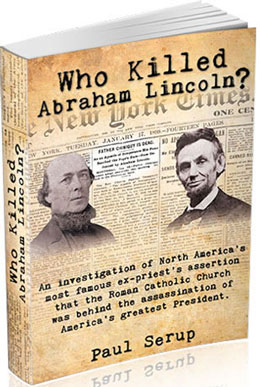 We have finally obtained copies of this valuable resource by Canadian author, Paul Serup, who is to be featured in next week's Noise of Thunder TV episode.

Some of you may remember Chris's radio interview with Serup and the discussion of this powerful book, which has now been embraced by the Ford Theater – the historic memorial where Lincoln himself was assassinated by John Wilkes Booth in 1865.
Thanks to the author, we are able to offer a limited number of signed copies of this important work, which also includes a CD-ROM packed with source documents for serious researchers of history.
With this offer you will receive a copy of the book signed by its author, Paul Serup.
An investigation of North America's most famous ex-priest's assertion that the Roman Catholic Church was behind the assassination of America's greatest President.
Over a period of some 22 years, author and independent historical researcher, Paul Serup, assessed Chiniquy's claims. The result of his meticulous research made a strong and compelling case that a Romanist plot led to the murder of one of history's most famous heads of state.
In 1885, the former Catholic priest Charles Chiniquy published his biography: "Fifty Years in the Church of Rome." A 2009 biography declares that he remains Canada's best-selling author of all time. Thirteen years after it was first printed, 70 editions of Fifty Years in the Church of Rome were circulating and it had been translated into at least nine languages. In it, Chiniquy made the startling claim that officials and laymen from the Catholic Church had, in fact, been responsible for the murder of his very close friend, Abraham Lincoln.
THE CD-ROM includes the following books/records:
a) "Fifty Years in the Church of Rome" by Charles Chiniquy (1886)
b) "The Assasination of President Lincoln and the Trial of the Conspirators" (1865)
c) "The Papacy & the Civil Power" by R.W. Thompson
d) The Trial of John H. Surratt, Volume 1 (1867)
e) The Trial of John H. Surratt, Volume 2 (1867)
If you wish to view the full interview with Paul Serup on Noise of Thunder TV, be sure to sign up for our Resource Room today. The show is scheduled to be posted this Monday – 3.25.13. We will be sure to send out another email once it is available.
___________________________________________________________________
SPECIAL RADIO PROGRAMS ON THE JESUIT ORDER
The past two NOTR programs have been extended shows taken from our Audio CD: "The Jesuits and the Counter Reformation," with introductions by Chris Pinto. Part one was featured on Friday's show and just today (Saturday) we have posted part two. We encourage you to listen and share this research with friends and family, especially those who are struggling to discern what is happening in the world around us. Remember, the shows will be posted for a limited time before they are sent to archives in our Resource Room. Click here to listen now.
___________________________________________________________________
BIBLE HISTORY Ten Pack 5 LAMP and 5 TARES DVDs -- $90.00
10 DVDs - 5 Lamp in the Dark & 5 Tares Among the Wheat
This special offer is intended for those who desire to share these documentaries as witnessing tools with friends, family and fellow church members.
___________________________________________________________________
Reformation Five Pack – $79.95
Learn the forgotten history of the Bible, the Church, and the Protestant Reformation. It is our belief that a modern Christian cannot understand our faith today without knowledge of what the saints have endured in centuries past, and how the enemy of our souls has worked to destroy the everlasting Gospel of Jesus Christ. This history of saints, martyrs, popes and prelates is given in great detail through this variety of resources that includes more than 8 hours of audio and visual media, along with the written word in two important books. This collection includes:
1) A Lamp in the Dark (documentary)
2) Tares Among the Wheat (documentary)
3) The Jesuits & the Counter Reformation (2 disc audio CD)
4) Washington in the Lap of Rome (book)
5) Geese in their Hoods (book)

Reformation 5 Pack - $79.95

 



___________________________________________________________________
Lamp & Tares COMBO -- $39.95
____________________________________________________________
Adullam Films
A Christian Film Ministry
www.adullamfilms.com
www.filmforjesus.com
To receive our newsletter and updates, please enter email address below:

Home
|
Contact Us
|
Cart
| © 2006-2015 Adullam Films. All rights reserved.